In this comprehensive blog post, we will look at some of the leading and best ecommerce marketing agencies in Gujarat and other metro cities of Gujarat.
Whether you are looking to find an ecommerce agency to help with your online store or want to outsource your digital marketing to specialized professionals, this list of top ecommerce marketing agencies in Gujarat will come handy.
Top 10 e-commerce service provider agencies in Gujarat
Gujarat has some of the best ecommerce and digital marketing agencies catering to all business sizes and domains. Here are the top recommended ecommerce agencies:
Creatofox – India's Top digital marketing agency
Hyperlink Infosystem
eTatvaSoft pvt ltd
Barodian Advertising
Webzguru Pvt Ltd
ThinkWhy
Infinity Cart
Smart Fish Design Private Limited
Shoutnhike
Noology Infotech Pvt ltd
1. Creatofox – India's Top Digital Marketing Agency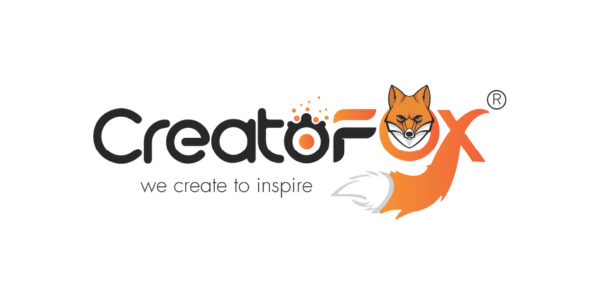 Creatofox is a digital marketing agency located in Ahmedabad providing specialized ecommerce services including:
Ecommerce Website Design and Development
SEO and Content Marketing
Social Media Marketing
Online Advertising
Email and SMS Marketing
With data-driven digital marketing strategies, Creatofox helps ecommerce businesses rapidly scale their growth.
Contact Details:
Website: https://creatofox.com/
Address: Plot No. 128, 129, First Floor, Pancham Mall, Nikolgram Road, Nikol Gam, Ahmedabad – 382350
Phone: +91 90237 21355
Email: tushar@shyamart.in
2. Hyperlink Infosystem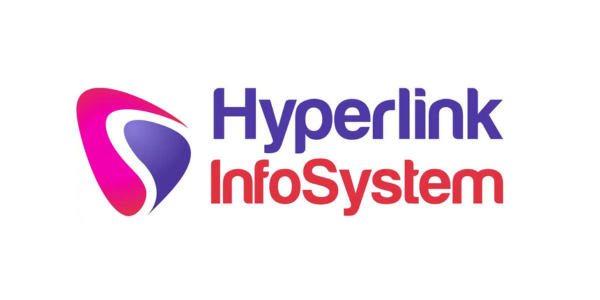 Founded in 2011, Hyperlink Infosystem is among the leading web and app development companies in Ahmedabad. They leverage deep tech skills with design thinking to craft customized ecommerce solutions. Key services include:
Ecommerce Website & App Development
Responsive Web Design & PWA Development
Custom PHP Development
Shopify, Magento, WooCommerce Expertise
SEO, SMM and PPC Marketing
3D Modeling & Product Visualization
Hyperlink Infosystem has 500+ successful projects with startups and brands like Nestle, Rodeo Drive, Markova and many more. Their focus is on delivering design-driven development and marketing.
Contact Details:
Website: https://www.hyperlinkinfosystem.com/
Address: C-106/B, Ganesh Meridian, Opp. Gujarat High Court, S. G. Highway, Ahmedabad, Gujarat, 380061
Phone: +91 8000161161
Email: info@hyperlinkinfosystem.com
3. eTatvaSoft pvt ltd
eTatvaSoft is a CMMI level 3 certified IT solutions company providing customized ecommerce solutions using latest technologies. Their offerings include:
Ecommerce Website and App Development
Ecommerce Marketing Services
Payment Gateway Integration
UI/UX Design and Development
Quality Assurance and Testing
eTatvaSoft combines technological expertise with agile methodologies to deliver innovative e commerce solutions.
Contact Details:
Website: https://www.etatvasoft.com/
Address: 2 ndFloor, TatvaSoft House, Rajpath Club Road, Near Shivalik Business Center, Ahmedabad – 380054
Phone: +91 9974278220
Email: info@etatvasoft.com
4. Barodian Advertising
Barodian Advertising is a leading digital advertising and branding agency based in vadodra. For ecommerce clients, they provide:
Digital Strategy and Consulting
Web Development and Digital Marketing
Social Media Marketing
Branding and Campaign Design
With a 30+ member team, Barodian Advertising brings together creative thinking and digital skills.
Contact Details:
Website: https://barodianadvertising.in
Address: 299/A/7 , GIDC Estate, Nr.BSNL Office , Makarpura, Vadodara-390010
Phone: +91 8690 436 874
Email: info@barodianadvertising.in
5. Webzguru Pvt Ltd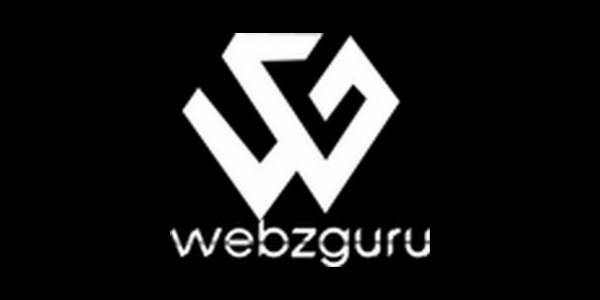 Webzguru is an award-winning web and mobile app development company in Rajkot. Their services for ecommerce businesses include:
Custom Ecommerce Platforms and Website Building
iOS and Android App Development
Digital Marketing Services
UI/UX Design and Development
Emerging Tech like AI, ML, Blockchain based Solutions
Webzguru combines design-driven development with new age technology skills.
Contact Details:
Website: https://webzguru.net
Address: 216/217, Ashish Comm. Complex, Near Astron Cinema, Rajkot – 360002
Phone: +91 792 657 9333
Email: info@webzguru.net
6. ThinkWhy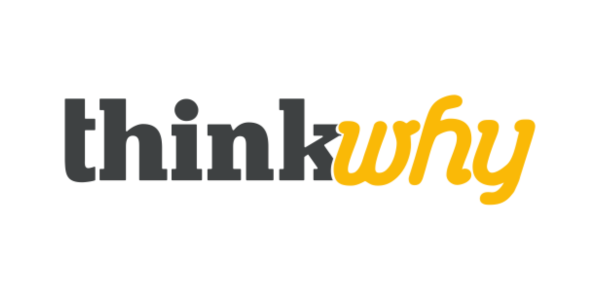 ThinkWhy is a leading digital transformation company located in Ahmedabad. They provide:
Custom Ecommerce Website and App Development
Digital Marketing Strategy and Services
Consulting and Implementation of Emerging Tech
UI/UX, Branding and Graphic Solutions
Quality Assurance and Testing Services
ThinkWhy focuses on leveraging innovation to help business achieve a long-term success.
Contact Details:
Website: https://www.thinkwhy.co
Address: A 812 Titanium Heights, Ahmedabad 380009
Phone: Not available
Email: Listen@thinkwhy.co
7. Hvinfotech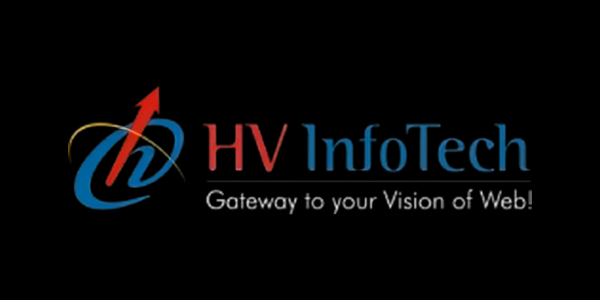 hvinfotech located in Ahmedabad, Gujarat provides end-to-end ecommerce solutions including:
Custom Ecommerce Platform Development
Progressive Web and Mobile App Development
SEO, Social Media Marketing and PPC
Payment Gateway Integration
Catalog Management and Optimization
With expertise in ecommerce technology and marketing, hvinfotech helps brands sell more online.
Contact Details:
Website: https://www.hvinfotech.com/
Address: HV InfoTech, C-307, Ganesh Meridian, Nr. Gujarat High Court, S. G. Highway, Sola, Ahmedabad – 380060
Phone: +91 79 40038935
Email: sales@hvinfotech.com
8. Smart Fish Design Private Limited
Smart Fish Design is a leading design company located in Ahmedabad. For ecommerce clients, they provide:
Responsive Website design and development services
Visual Brand Identity Design
Packaging and Print Design
Digital Marketing Creative Solutions
UX/UI and Interaction Design
Smart Fish Design focuses on creating personalized design solutions tailored to each business.
Contact Details:
Website: https://smartfish.co.in
Address:
806, Abhishree Adroit. Judges Bungalow Road. Nr. Mansi Cross Road, Vastrapur, Ahmedabad-380015
Phone: +91 7490021947
Email: info@smartfishdesign.com
9. Shoutnhike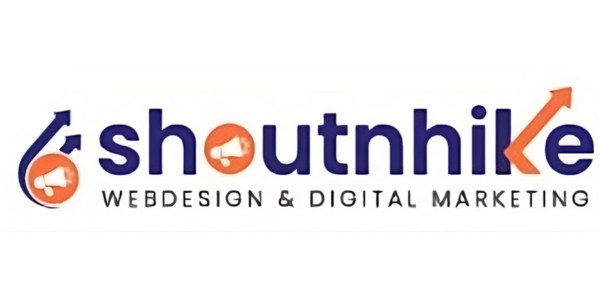 Shoutnhike is a digital marketing agency based in Ahmedabad providing specialized services including:
Search Engine Optimization
Social Media Marketing
Online Reputation Management
Pay Per Click Advertising
Content Strategy and Creation
With a data-driven approach, Shoutnhike helps ecommerce businesses boost their visibility and traffic.
Contact Details:
Website: https://shoutnhike.com/
Address: Office No. 801, Anand Mangal 3, Opp. Core Biotech, Ragnagar Club Lane, NR. Municipal School, Ambawadi, Ahmedabad-380006
Phone: +91 9974360053
Email: hi@shoutnhike.com
10. Honeybee Digital
Honeybee Digital located in Gandhinagar provides specialized ecommerce services including:
Ecommerce Website Design and Development
SEO and Content Marketing
Social Media Marketing Strategy and Execution
Online Advertising through Google and Facebook Ads
Marketplace Management and Optimization
With a focus on data and ROI, Honeybee helps ecommerce businesses rapidly scale through digital commerce solutions.
Contact Details:
Website: https://honeybeedigital.com/
Address: C-802, Samved Green Valley, Nr. Ashka Hospital, Sargasan, Gandhinagar – 382421
Phone: +917096341100
Email: contact@honeybeedigital.com
There are many other reputed ecommerce agencies located in Ahmedabad. Evaluate them thoroughly based on industry experience, client reviews, technical capabilities, work ethics and expertise aligning with your business goals.
Why Ecommerce Marketing Agencies are Important for Business Growth?
Ecommerce and digital marketing agencies play a crucial role in the success of online businesses and ecommerce companies. Some of the key benefits of working with a specialized ecommerce marketing agency include:
Saving Time and Resources: Ecommerce marketing requires a diverse skill-set combining technical knowledge and creative thinking. Hiring an agency handles all this complexity for you.
Getting Expertise: Ecommerce agencies have in-depth experience of what works and helps you avoid common mistakes.
Improving Sales: Growth-focused ecommerce marketing strategy and execution leads to higher ROI.
Brand Building: Agencies help create brand awareness and credibility needed for long-term success.
Scaling Fast: Getting desired results faster allows rapidly scaling up the business.
Metrics and Analytics: Data-driven approach with clear ROI metrics provided by agencies.
Thus, investing in the right ecommerce marketing partner can deliver exponential returns for your ecommerce business and brand.
Key Considerations for Selecting the Right Ecommerce Marketing Agency in Gujarat
Choosing the ideal ecommerce agency for your business needs careful evaluation across multiple parameters.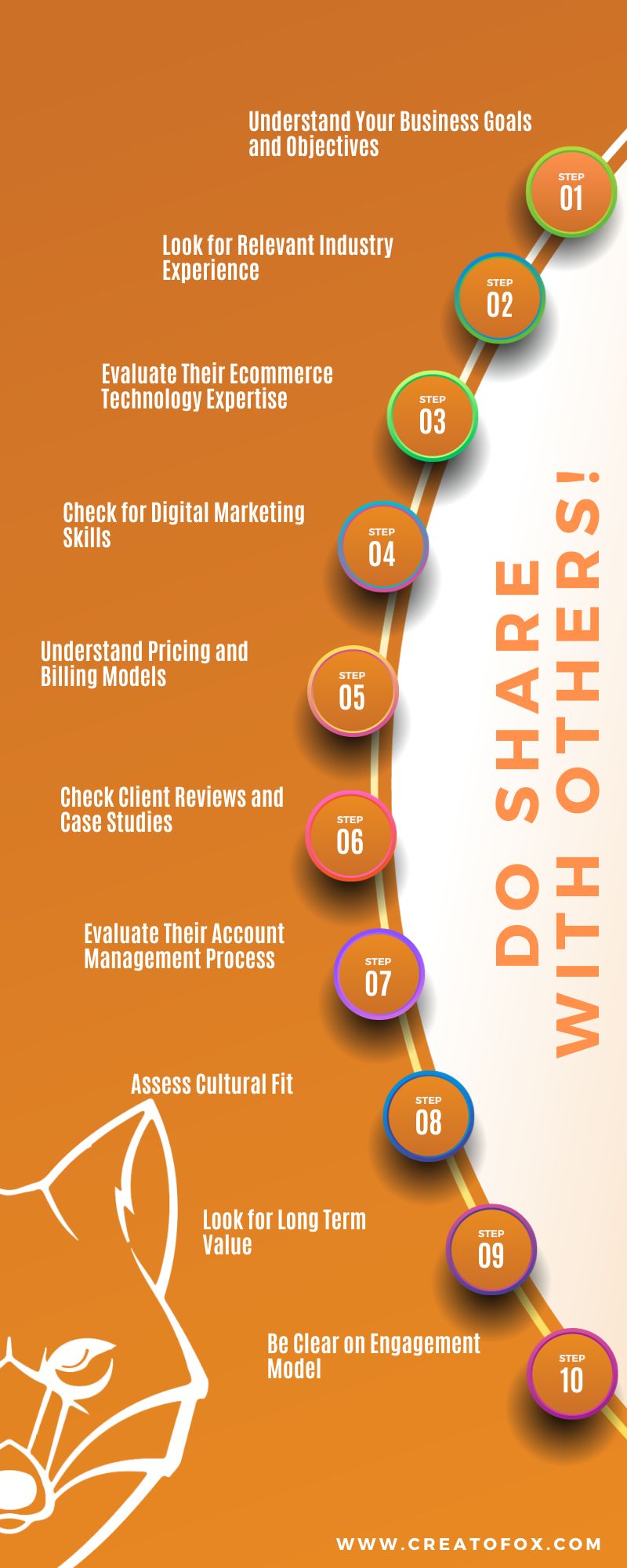 Here are some key considerations when shortlisting and selecting an ecommerce partner:
1. Understand Your Business Goals and Objectives
Be clear on what you want to achieve through the engagement with the ecommerce agency. Is it brand awareness, lead generation, reducing acquisition costs or driving sales? Define precise goals and metrics for success.
2. Look for Relevant Industry Experience
Shortlist agencies with proven experience in your specific industry or business domain. Expertise in your niche demonstrates ability to deliver tailored strategies and solutions.
3. Evaluate Their Ecommerce Technology Expertise
Review the technical skills and ecommerce platforms expertise like Magento, Shopify, Woo Commerce etc. Look for hands-on experience beyond just web development.
4. Check for Digital Marketing Skills
Ecommerce marketing requires diverse digital skills like SEO, email, paid ads, content strategy etc. Multi-channel expertise is ideal compared to only web development capabilities.
5. Understand Pricing and Billing Models
Compare project-based pricing, monthly retainers, commissions etc. Look for flexibility in billing models based on changing business needs.
6. Check Client Reviews and Case Studies
Validate capabilities and experience through client testimonials, case studies and examples of past work in your industry. Clear success stories build confidence.
7. Evaluate Their Account Management Process
Understand their team structure, account management and communication process during onboarding and ongoing work. Seamless collaboration is vital.
8. Assess Cultural Fit
Gauge the agency's work culture for transparency, collaboration and accountability. Comfort level and alignment of
9. Look for Long Term Value
The ideal agency partner provides long-term value beyond quick wins. Seek strategic thinking, innovation and capability to scale up initiatives over time.
10. Be Clear on Engagement Model
Clarify how the agency delivers work – project based or dedicated team model. Have flexibility for changing business needs.
By evaluating agencies thoroughly on these parameters, you can identify the right ecommerce marketing partner tailored to your organizational needs and goals.
What questions should I ask an ecommerce agency before hiring them?
What is your experience in my particular industry and business model?
What will your specific strategy be to meet my business goals and objectives?
What ecommerce platforms and technologies do you have experience working with?
How will you handle my project – dedicated team or project-based?
What are the KPIs you will monitor and optimize?
What is the communication and transparency process?
What are your pricing models and billing plans?
What are the signs of a bad ecommerce agency?
Red flags while evaluating ecommerce agencies include lack of transparency, exaggerated claims, lack of client references, high churn, reliance on templates versus custom work, limited reporting and analytics, poor communication and lack of understanding of your business goals.
What makes a successful ecommerce agency-client relationship?
A successful ecommerce agency engagement requires clearly defined goals, transparent communication, well-outlined scope of work, flexible engagement models, proactive optimization, consistent reporting, accountability on both sides and a partner mindset focused on shared success.
Summary
Ecommerce and digital marketing agencies provide specialized expertise required for online business success combining website design, development, online marketing, analytics and optimization.
Ahmedabad has numerous top ecommerce agencies suitable for startups and big brands delivering solutions like custom platform development, app building, digital marketing, branding and more.
Other major cities in Gujarat also have some of the leading ecommerce and digital agencies catering to local businesses.
Evaluating parameters like industry experience, technical skills, pricing models and work culture is key for identifying the ideal strategic ecommerce partner tailored to your organizational needs.
The right agency provides long-term value to your brand by leveraging innovation and driving growth through online sales and marketing.
So boost your ecommerce presence in Gujarat by partnering with one of the top agencies listed in this article for transformative results. Feel free to reach out to any of the agencies directly for further information.
Frequently Asked Questions
Q1 – Why should I hire an ecommerce marketing agency?
An ecommerce marketing agency provides end-to-end strategy and execution leveraging specialized skills and proven expertise needed for success in online sales. Doing it in-house requires significant investment in hiring and managing diverse talent.


Q2 – What services do ecommerce marketing agencies provide?
Top ecommerce agencies provide integrated solutions combining website design and development, digital marketing across SEO, PPC, email, paid social, content strategy, analytics, store optimization and more based on business goals.


Q3 – How are ecommerce agencies different from web development companies?
Web development companies focus primarily on front-end design and backend programming. Ecommerce agencies combine technical expertise with specialized digital marketing skills and data-driven optimization specific to ecommerce KPIs.


Q4 – What does a good ecommerce agency provide?
A great ecommerce agency becomes a true partner in your business growth. This includes strategy, execution and optimization across website design, user experience, branding, digital marketing, promotions and constant innovation.

Q5 – How do you choose the right ecommerce agency?
Choosing the right ecommerce agency requires evaluating industry experience, technical and marketing expertise, pricing models, client reviews, cultural alignment and long term vision. The ideal agency understands your business goals and aligns its services accordingly.


Time To Say Goodbye!
Finding a reliable and trustworthy e-commerce service providing agency in Gujarat can be comparatively difficult than simply finding a digital agency. However, if you are looking for the best ecommerce agency in Gujarat then we would highly recommend you to get in touch with us.
Our unmatched ecommerce services are proven to boost your overall business in the online marketplaces. We would be happy to share our case studies with you, to make sure you can check the quality of our work and the results we snatched with our efforts 😉