In today's digital world, where businesses compete to grab their audience's attention, graphic designing has become essential to establish their brand identity, differentiate themselves from their competitors, and connect with their target audience.
In this article, we will explore some key areas related to how graphic designing can help a business. We will go through topics like the importance of graphic designing for businesses, the elements of graphic designing, the benefits of good graphic designing, the role of graphic designing in marketing, examples of successful graphic designing in business, and how you can use outsourcing for graphic designing for your businesses.
Importance of Graphic Designing for Businesses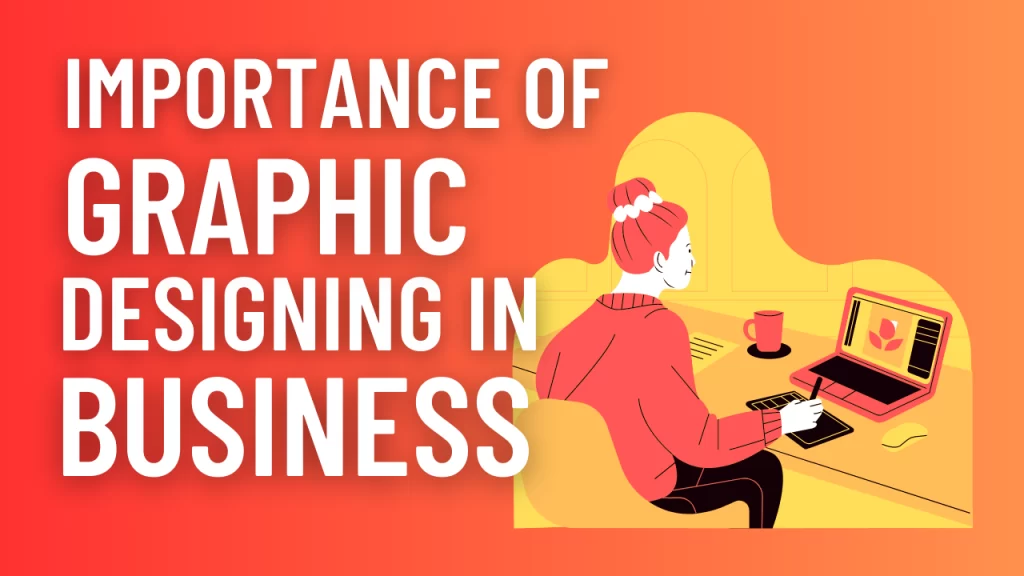 1. Establishing a Brand Identity
Graphic design is crucial in establishing a brand identity for businesses. A well-designed logo, colour scheme, typography, and other visual elements can help companies to create a strong and recognizable brand identity.
2. Creating a Memorable Impression
Graphic design can help businesses make a memorable impression on their audience. An engaging and visually appealing design can help companies to stand out from their competitors and leave a lasting impression on their audience.
3. Differentiating from Competitors
Graphic designing can also help businesses determine themselves. A unique and well-designed logo, colour scheme, and other visual elements can help companies to create a distinct brand identity and stand out from their competitors.
4. Enhancing Credibility and Professionalism
Well-designed graphics can help businesses improve their credibility and professionalism. A professional-looking design can help companies to establish a trustworthy image and build a strong reputation in their industry.
5. Connecting with Target Audience
Graphic designing can also help businesses connect with their target audience. A well-designed visual element can evoke emotions, capture attention, and create a connection with the audience.
Types of Graphic Designing for Businesses
Graphic designing is a vast field, and different designs serve other business purposes. Some of the most popular types of graphic designing that business owners prfer are:
Branding and logo design: A logo is the face of a brand, and branding is the process of creating a unique identity for a business. Graphic designers use typography, colours, and images to create a logo and branding elements that convey the company's essence.
Print design: The print design includes business cards, brochures, flyers, posters, and other materials that are printed on paper. These designs aim to attract the attention of potential customers and convey information about the business.
Packaging design: Packaging design is essential for companies that sell physical products. Graphic designers create packaging designs that are visually appealing but also practical and functional.
Web design: A website is a crucial marketing tool for businesses in today's digital world. Graphic designers use their skills to create visually appealing and user-friendly websites and mobile apps that help companies to connect with their customers.
Social media graphics: Social media is an excellent platform for businesses to communicate with customers and promote their brands. Graphic designers create social media graphics, including banners, covers, and posts, that help companies to engage with their audience.
Benefits of Good Graphic Designing for Businesses
Good graphic designing has numerous benefits for a businesses, including:
Increased brand recognition and awareness: Well-designed logos and branding elements can help companies to stand out and be recognized more easily.
Improved customer engagement and loyalty: Eye-catching graphics and designs can capture customers' attention and keep them engaged with the business.
Boosted sales and revenue: Good design can influence customers' purchasing decisions, increasing sales and revenue.
Enhanced user experience and satisfaction: User-friendly design elements can make it easier for customers to interact with a business, leading to greater happiness and loyalty.
Strengthened brand reputation and trust: Consistent and professional design can enhance a business's credibility and reputation, increasing customer confidence.
The Role of Graphic Designing in Marketing
Graphic design plays a crucial role in marketing, as it creates various marketing materials and advertisements. Some of the ways graphic designing is used in marketing include:
Creating eye-catching advertisements: Well-designed advertisements can capture the attention of potential customers and generate interest in a business.
Designing marketing materials such as brochures, flyers, and catalogues: These materials provide customers with information about a business's products and services.
Designing email newsletters and templates: Email marketing is an effective way to reach customers, and well-designed email templates can make emails more engaging and memorable.
Creating infographics and visual data representation: Infographics and graphical data representation make complex information easier to understand and more visually appealing.
Designing social media posts and ads: Social media is an important platform for businesses to connect with their audience, and well-designed posts and ads can significantly improve the engagement of your target audience, ultimately driving more traffic to your website and boosting your sales and revenue.
Examples of Successful Graphic Designing in Business
Many examples of businesses have successfully leveraged graphic designing to create a strong brand identity and connect with their target audience. Here are a few notable examples:
1. Apple Inc.
The company's logo is one of the most recognizable in the world, with its simple, sleek design and iconic apple image. The logo has undergone some changes over the years but has remained consistently minimalist and memorable.
2. Coca-Cola
The beverage giant has used the same red-and-white colour scheme since 1890, creating a consistent visual identity across all its marketing materials. This has helped to establish the brand as a reliable and trustworthy option for consumers.
3. Nike
The company's "Just Do It" slogan has become one of the most recognizable in the world, paired with a simple and effective logo design. Nike's branding has helped to establish it as a leader in the athletic apparel industry.
4. Airbnb
The home-sharing platform uses engaging visuals to showcase its destinations and properties, creating a sense of wanderlust and adventure for its target audience.
5. Mailchimp
The email marketing platform has developed a fun and playful design style that appeals to small businesses, with bright colours and whimsical illustrations.
Outsourcing Graphic Designing for Businesses
Outsourcing to a professional graphic designing agency can be a great option if you need more time or resources to create impactful graphics for your business. Here are a few things to keep in mind when outsourcing:
Benefits of outsourcing graphic designing: Outsourcing can save you time and money and provide access to professional-grade design software and expertise.
Finding the right graphic designer or agency: Look for designers or agencies with experience in your industry and a portfolio of work that aligns with your vision.
Tips for effective communication: Be clear about your goals and expectations, and provide detailed feedback throughout the design process.
Understanding the design process and timeline: Make sure you know the designer's process and timeline, and be prepared to promptly provide any necessary information or feedback.
Budgeting and pricing for graphic designing services: Graphic designing rates vary depending on the designer's experience, the complexity of the project, and other factors. Be sure to establish a clear budget and pricing agreement upfront.
FAQs –
Can graphic design impact my website's performance?
Yes, graphic design can impact your website's performance by creating a visually appealing and easy-to-use interface that can keep users engaged and encourage them to take action. Additionally, optimizing website images for faster loading times can improve user experience and search engine rankings.


How can graphic design improve my brand's recognition?
By creating a consistent visual identity, such as a logo, colour palette, and typography, graphic design can help your brand stand out and become more recognizable to your target audience. This can improve brand awareness and loyalty, leading to increased sales and customer retention.


Can graphic design enhance my social media presence?
Yes, graphic design can enhance your social media presence by creating visually appealing posts and ads that can grab users' attention and encourage engagement. Additionally, creating branded templates and graphics can help maintain a consistent visual identity across all social media platforms.


Is hiring a professional graphic designer worth the investment for my business?
Yes, hiring a professional graphic designer can be a worthwhile investment for your business. A professional designer can bring expertise and creativity to your branding and marketing efforts, leading to better results and a more professional image. Additionally, a well-designed brand can lead to long-term cost savings by reducing the need for constant rebranding and marketing efforts.

Conclusion
In today's digital world, graphic designing is essential for businesses of all sizes. And by creating a strong brand identity, connecting with your target audience and enhancing it becomes much easier.
However, choosing the right graphic designing company is crucial if you don't wish to waste your money, time, and effort. As one of the industry's most trusted graphic designing service providers, we at Creatofox are committed to helping business owners get visible results with a target-based approach. We can also help you with the same.