Web Design
Grow Your Brand
with Creatofox today
What's Included?
What's Included In Our Web Design Services?
WordPress Website Design

WordPress is the world's most commonly used CMS that is SEO-friendly, agile, and fully customizable to your needs and wants.

Shopify (E-commerce)

Shopify is an e-commerce development platform. It offers lots of scope for customization. We deliver flawless Shopify stores in record time.

Mobile Friendly Website

We design your website with a mobile-first approach—optimized and coded for the most up-to-date mobile SEO practices.

No Hidden Fees

Some home services web design companies have contract clauses that say if you leave, you have to pay a large fee, or you won't get to take your website with you.

Landing Page Design

With the right website design elements, calls to action, and ad copy, we can improve your site's performance.

Website Copywriting

Your website should be your #1 sales and marketing tool for your business. If you need compelling, SEO-friendly copy and content for your website, we will deliver it.
Featured Case
We Focused on Results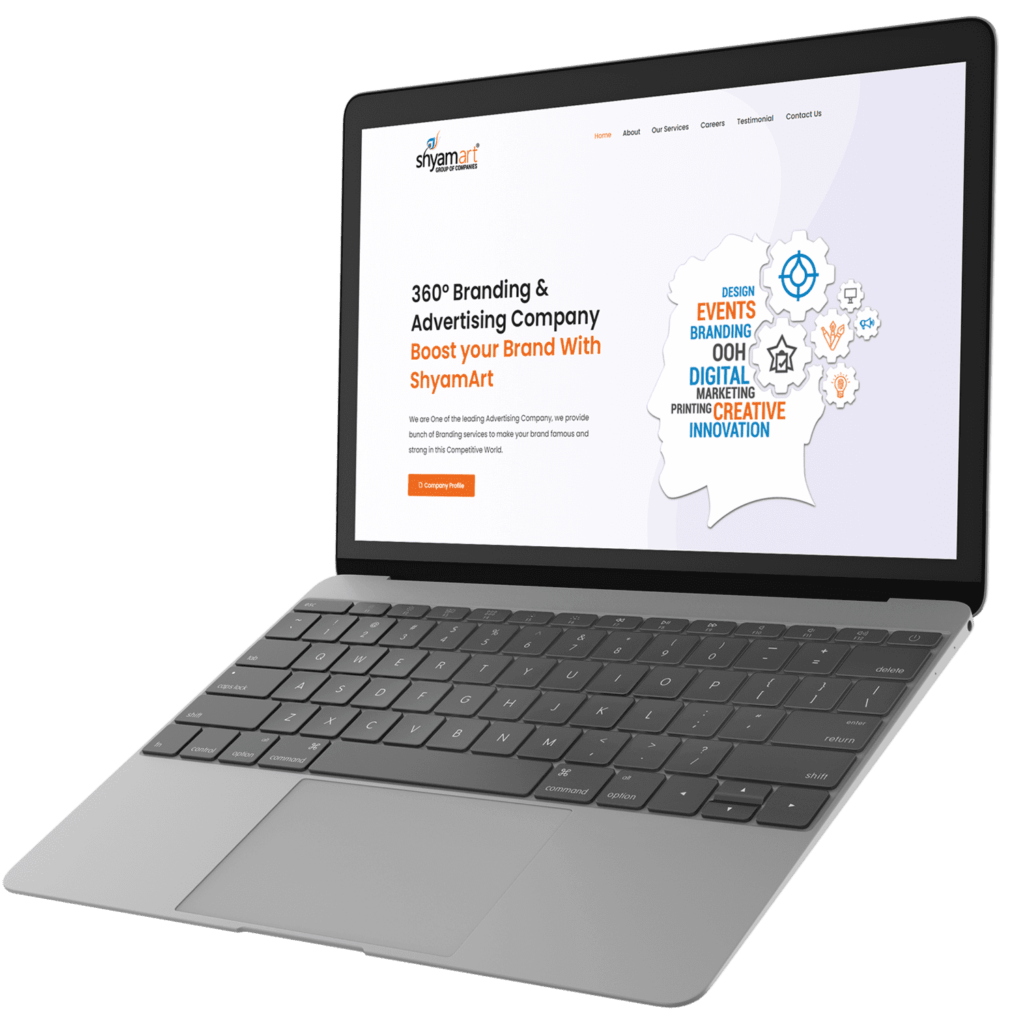 Web Design
Premium WordPress theme with its design particularly regards to Training and
Development tool
Wordpress
Website
https://www.shyamart.in/
View more info
Our Process
THINGS SIMPLE
We've created a roadmap for working with companies in a way that effectively executes a solid content marketing strategy.
Discovery

During the discovery phase, we identify the project requirements based on analysis and direction from the client.

Planning

Our team documents all of the technologies, features, and frameworks to be used and developed for the project.

Design

UI elements, typography, and color schemes are selected based on branding requirements and our design research and analysis.

Development

The development process involves following the created documentation to build the right features and functions.

Deployment

Our quality assurance team performs tests to ensure that each feature works properly and performs to expectation.
Leading Web Designing & Development Agency
In today's digital age, a business's online presence is critical to success. An effective website that is user-friendly, visually appealing, and easy to navigate is essential for businesses looking to establish a strong online presence. This is where web designing and development services come in.
As a leading digital marketing company, we know a website is the foundation of a successful online presence. That's why we offer a range of web designing and development services to help our clients create a website that looks great and performs well in terms of user engagement, lead generation, and conversion rates.
Unlike other web designing and development services, we use the latest technologies and tools to ensure our websites are responsive, easy to navigate, and visually appealing to ensure you get the best results at affordable services.
Web Designing and Development Services by Creatofox
At Creatofox, we offer comprehensive web designing and development services to help businesses establish a strong online presence, increase customer engagement, and drive conversions. Our team of experienced designers and developers understands the importance of a well-designed website and its impact on your business.
Here are some reasons why web designing and development services are essential for business owners:
First impressions matter:

Your website is often the first point of contact between your business and potential customers. A poorly designed and outdated website can drive potential customers away. In contrast, a well-designed and visually appealing website can create a lasting impression and entice customers to engage with your business.

User experience:

User experience is crucial for the success of any website. A well-designed website with intuitive navigation, clear calls-to-action, and easy-to-use interfaces can enhance the user experience, increasing engagement and conversions.

Mobile responsiveness:

With the rise of mobile devices, it's essential to have a mobile-responsive website. A mobile responsive website ensures that your website looks great and functions well on any device, including smartphones and tablets.

Search engine optimization (SEO):

A well-designed website with good SEO practices can help your website rank higher on search engine results pages (SERPs), increasing visibility and traffic.
Our Web Designing and Development Services
At Creatofox, we offer a range of web designing and development services that cater to the diverse needs of businesses. Our services include:
Website design and development:

Our team of experienced designers and developers can create custom websites tailored to your business needs and goals. We use the latest design trends and technologies to ensure your website is visually appealing, user-friendly, and mobile responsive.

E-commerce website development:

We specialize in developing e-commerce websites that drive sales and conversions. Our team can help you create an online store that is user-friendly, easy to navigate, and optimized for conversions.

Content management systems (CMS) development:

We can help you develop a custom CMS that allows you to easily manage your website's content. Our CMS development services include custom theme and plugin development, third-party integration, and ongoing support and maintenance.

Website maintenance and support:

We understand the importance of keeping your website up-to-date and secure. We offer ongoing website maintenance and support services to ensure your website is always up-to-date and functioning properly.
Why Choose Creatofox for Web Designing and Development Services?
Choosing the right web development and designing company is always daunting for any business owner. And one of the best ways to do that is by looking at the company's previous work examples + client reviews.
As a trusted web development and digital marketing agency in Gujarat, we pride ourselves on offering the following solutions at Creatofox.
1. Customized Web Design Solutions
We understand that every business has unique needs, so we offer customized web design solutions tailored to your business goals and objectives. 
2. Mobile-Responsive Websites
In today's digital age, having a mobile-responsive website is crucial for the success of any business. We specialize in creating mobile-responsive websites that provide an optimal viewing experience across various devices, including desktops, laptops, tablets, and smartphones.
3. Scalable Web Development Services
Whether a small startup or a large enterprise, our scalable web development services can help you achieve your business objectives. 
Our web developers are skilled in various programming languages, including HTML, CSS, JavaScript, and PHP, and can create custom web applications that meet your unique business needs.
4. E-commerce Website Development
In today's competitive online marketplace, having a robust and user-friendly e-commerce website is essential for any business looking to succeed.
At Creatofox, we specialize in e-commerce website development and can help you create an easy-to-use, secure, and optimized online store for conversions.
5. Website Maintenance and Support
We understand that maintaining and updating your website can be time-consuming and challenging. Thus, we offer comprehensive website maintenance and support services to ensure that your website is always up-to-date, secure and performing optimally. 
Our team of experts will handle everything, from regular updates and backups to troubleshooting and technical support.
Final Thoughts
At Creatofox, we believe in delivering high-quality web designing and development services that exceed our client's expectations. Our client-centric approach, competitive pricing, and customizable packages make us one of India's best web designing and development service providers. Contact us today to learn more about our services and how we can help you establish a strong online presence.
FAQs-
Why do I need a professional website for my business?
A professional website can greatly enhance your online presence and help you reach a wider audience. It can also serve as a platform to showcase your products or services, build brand credibility, and generate leads.
What is the difference between web designing and web development?
Web designing refers to creating a website's visual layout and user interface. In contrast, web development involves coding and programming to bring the design to life and make it functional.
How long does it take to design and develop a website?
The time required to design and develop a website depends on various factors, such as the complexity of the website, the number of pages, the features required, and client feedback. However, a typical website can take 4 to 12 weeks to complete.
What kind of website is best suited for my business?
The type of website best suited for your business depends on your industry, target audience, and business goals. A brochure website is ideal for companies looking to showcase their products or services. In contrast, an e-commerce website suits businesses looking to sell products online.
How can I ensure that my website is mobile-friendly?
A mobile-friendly website is crucial for today's users who access the internet on their mobile devices. You can provide your website is mobile-friendly by using a responsive design that adapts to different screen sizes, optimizing images and videos for faster loading times, and using clear and concise text that is easy to read on smaller screens.