The Importance of a website for a company cannot be emphasized enough. Because, in today's digital age, having a website is crucial for any business to thrive. Since a website is a powerful tool to help you establish your brand, increase your customer base, and drive sales. It provides a platform for businesses to reach their target audience, regardless of location or time zone.
Therefore, a website with compelling visuals and strong, credible content is critical for building trust and establishing your brand as a leader in the industry. As a leading digital marketing agency in India, we know that a website plays a vital role in the marketing toolkit for any business.
However, creating a successful website involves more than design and functionality. With increasingly discerning customers, you must put considerable thought and effort into your website's design, content, and user experience.
Importance Of a Website For any Business in 2023
Is it worth putting in all the effort to build an incredible business website? Let's find out!
Here are the top 25 reasons businesses should get a custom website for themselves as soon as possible.
1. Helps Establish credibility and build trust
A professional website can make your business appear more trustworthy and legitimate to potential customers. It can provide a platform to showcase your products or services and display testimonials or reviews from satisfied customers.
2. Create a local presence
A website can help establish a local presence by providing location-based information and SEO optimization. This can attract customers searching for businesses in their specific area.
For example, if your business caters to customers in Ahmedabad, people living in Ahmedabad are likely to find your website more quickly.
3. 24×7 sales channel
A website provides an always-available sales channel, allowing customers to purchase products or services anytime during the day or night.
Additionally, it can help undertake any queries from your potential customers when you're not available physically. Overall, a business website can increase sales and revenue for your business and become a supporting hand.
4. Increase organic traffic
By implementing the right SEO strategies, a website can help improve your search engine rankings, resulting in more organic traffic to your business site. This can lead to more potential customers discovering your business and products.
5. Improved customer experience
A well-designed website can provide a seamless user experience for customers, making it easy to navigate, find information relevant to your business, and make purchases.
With such functionality and ease of usage, your customers can experience better satisfaction and stay loyal to using services/products offered by your business.
6. Complement digital marketing efforts
A website can complement your digital marketing efforts by providing a central hub for all your online activities, including social media marketing, email marketing, and online advertising.
Thus, even if your business is never been optimized with digital marketing earlier, a business website can act like a launch pad for you to step into the online marketing world.
7. Helps you to test your product or service
A website can provide a platform to test and refine your products or services. You can gather customer feedback, conduct surveys, or other essential details which might be useful for your business.
By collecting this valuable data, you can enhance customer targeting for getting more sales and conversions for your business.
8. Data Analysis
A website can provide valuable insights into your customer's behaviour, including what pages they visit, how long they stay, and what products they buy.
This data can be used to make informed business decisions and improve your overall strategy. For instance, if you are selling clothes and other fashion items online, deeply understanding the requirements and preferences of your users can help you promote the right products.
9. Eliminate intermediaries
A great business website can eliminate the need for intermediaries such as agents, brokers, or wholesalers. This can help you save money and have more control over the distribution of your products or services.
10. Attract potential business partners
A website can showcase your business to potential partners, investors, or collaborators. By adding credible information and creating a genuine portfolio, you can stand out from your competitors.
When interested business partners visit your website, the added information will create a positive impact. Therefore, this can help you form valuable partnerships and expand your business network.
11. Expand your team
A website can provide job listings and career opportunities, allowing you to expand your team and find new talent to grow your business.
On top of that, online visibility will help you attract new talent in the market who are looking for a job change. Hence, it becomes a win-win for everyone where your business gets the best employees for the company and they get to work for a great business.
12. Clarify the customer's question
A website can provide an FAQ section, helping to answer common customer questions and concerns related to a business. This can reduce customer service requests and improve overall customer satisfaction.
13. Acts as a portfolio
A website can be a portfolio showcasing your work, products, or services to potential customers. This can be especially useful for creative professionals like photographers or designers.
14. Upsell your product or service
Upselling to existing customers is no doubt the best way to boost sales or subscriptions. Therefore, a website can provide opportunities to upsell or cross-sell your products or services to customers, increasing your business's average order value and revenue.
15. Add more value to your customers
A website can provide valuable resources such as blog articles, tutorials, or guides, adding more value to your customers and establishing your business as an authority in your industry.
Not to mention, having a resourceful website will also help your business attract more organic visitors who will convert into potential customers later.
16. Assess competitors
A website can help you assess your competitors by analyzing their online presence, including their website design, content, and SEO strategy. This can provide valuable insights to improve your own business strategy.
17. Cost-effective
A website can be a cost-effective way to establish an online presence and reach a wider audience. A website can be more affordable and provide a higher ROI than traditional advertising methods, such as print or TV.
18. Business expansion
A website can help you expand your business by reaching new markets and audiences. With the right SEO strategy and online marketing efforts, a website can expand its global reach and expand its target audience significantly.
19. Better Customer Experience
Your website can provide a much better customer experience than any physical store can. With a website, you can create a user-friendly interface that's easy to navigate and use.
On top of that, you can provide product or service recommendations, personalized offers, and more, all based on your customer's browsing and purchase history.
20. Easy Product or Service Testing
Your website is an excellent platform to test new products or services. You can easily launch new products or services and see how your customers respond. Plus, collecting feedback and insights from customers will improve your offerings as well.
21. Increased Brand Awareness
A website can help you increase brand awareness and reach new audiences. You can showcase your brand, values, and unique selling proposition with a website.
As a trusted business, you can also create valuable content that helps your target audience learn more about your industry and your products or services.
22. Efficient Customer Support
A website can also be a valuable platform for customer support. You can provide a dedicated customer support page with FAQs, chatbots, and contact forms. This can help you quickly and efficiently address customer queries and complaints, which can help improve customer satisfaction.
23. Improved Communication
A website can also be a powerful communication tool. You can use your website to communicate important information to your customers, such as changes in your business hours or new product launches. You can also use your website to create a blog and share industry news and insights with your customers.
24. Improve accessibility
A website can improve accessibility for your customers, especially those with disabilities. For better readability, you can add features such as alt text for images, closed video captions, and larger fonts. This can help ensure that all customers have a positive experience on your website and can access the information they need.
25. Streamline business operations
A website can streamline business operations by automating appointment scheduling, order processing, and inventory management tasks. This can save you time and money, allowing you to focus on other aspects of your business.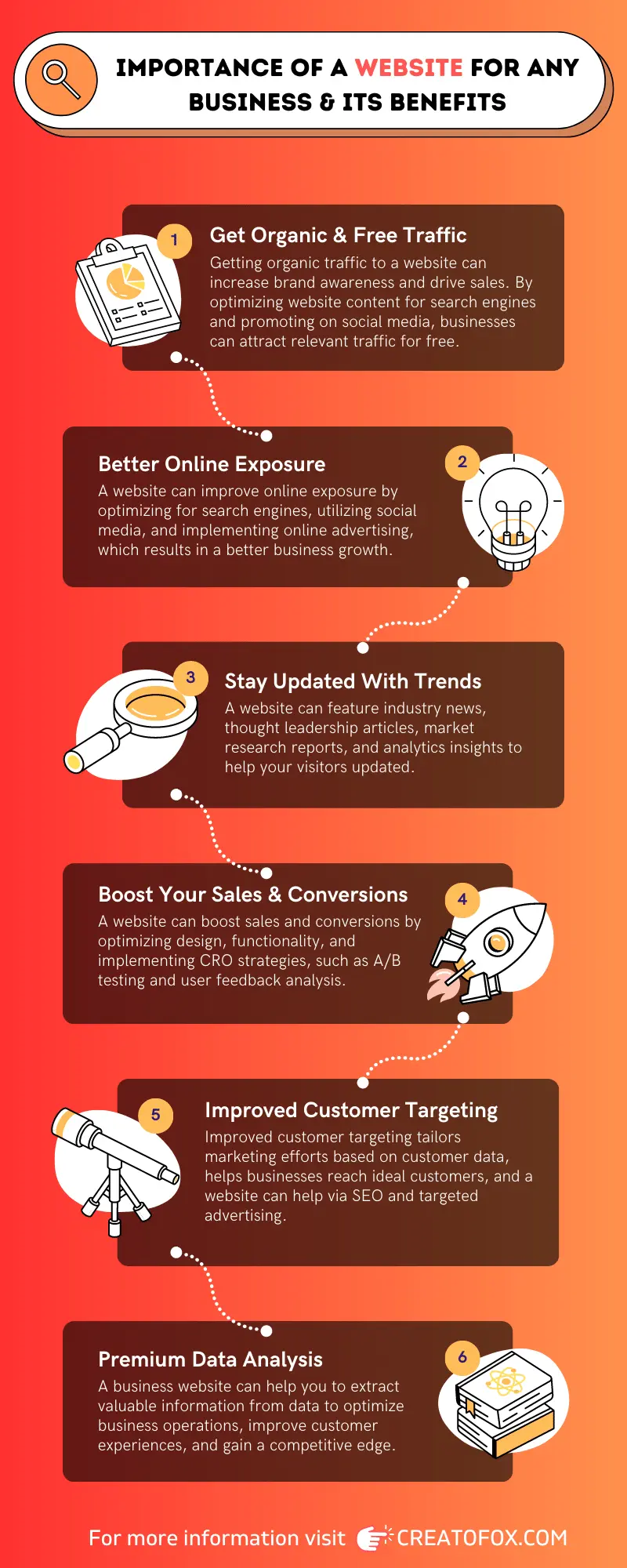 FAQs for Building a Good Business Site
What is the cost of building a website?
The cost of building a website can vary greatly depending on several factors, including the complexity of the site, the features and functionality required, and the experience and expertise of the developer. A simple website with basic features can cost a few hundred dollars, while a more complex site with advanced functionality can cost several thousand dollars.


How long does it take to build a website?
The time it takes to build a website also depends on several factors, such as the size and complexity of the site and the experience of the developer. A simple website with a few pages can be built within a week, while a more complex site with custom functionality can take several months to develop.


What are some tips for effective website design?
Effective website design involves creating a user-friendly layout, using a clean and consistent design, optimizing for mobile devices, ensuring fast load times, and including clear calls-to-action. It is also important to have a clear understanding of the target audience and their preferences and to conduct user testing to identify areas for improvement.


How can I measure the success of my website?
Measuring the success of a website can be done using various metrics, such as website traffic, bounce rate, time on site, conversion rates, and search engine rankings. It is important to set specific goals and track progress over time, using tools like Google Analytics to monitor website performance and make data-driven decisions.


Do I need a website if I already have social media accounts?
While social media accounts can be useful for building brand awareness and engaging with customers, they should not be a substitute for a website. A website provides a centralized location for displaying products or services, sharing valuable content, and driving conversions. Additionally, a website offers greater control over branding and customer data.


What are some common mistakes to avoid when building a website?
Some common mistakes to avoid when building a website include using a cluttered or confusing layout, failing to optimize for mobile devices, using poor-quality images, neglecting search engine optimization, and lacking clear calls-to-action. It is also important to test the website thoroughly for bugs and usability issues.


Wrapping Up
In conclusion, a website is essential for any business to establish a strong online presence. It not only helps you reach a wider audience but also allows you to showcase your brand and products in the best possible way. Investing in a professional website can gain a competitive edge and drive growth for your business.
However, it is recommended to choose the right web development & designing company for creating your first website. So you won't need to spend extra money just because you don't like the look and feel of the website or it doesn't resonate with your brand.
At Creatofox, we have developed and designed countless websites for business owners and individuals. The majority of projects we decide to work on turn into a huge success in the end. Contact us today if you are looking for guaranteed results and excellent service satisfaction at affordable pricing.